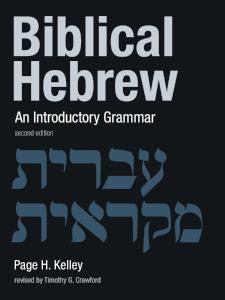 Biblical Hebrew An Introductory Grammar
£2550

£25.50

Save £8.49
Tax included.
---
---
A standard, much-used textbook
updated and improved
Comprehensive in scope, this carefully crafted introductory grammar of Biblical Hebrew offers easy-to-understand explanations, numerous biblical illustrations, and a wide range of imaginative, biblically based exercises.

The book consists of thirty-one lessons, each presenting grammatical concepts with examples and numerous exercises judiciously selected from the biblical text. These lessons are accompanied by eleven complete verb charts, an extensive vocabulary list, a glossary of grammatical terms, and a subject index.

In this second edition Timothy Crawford has updated the text throughout while preserving the Page Kelley approach that has made Biblical Hebrew so popular over the years.
Author
Page H. Kelley