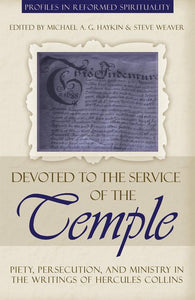 Devoted to the Service of the Temple
£599

£5.99

Save £2
Tax included.
---
---
While largely forgotten in modern times, Hercules Collins (1646/1702) was highly influential among the late 17th and early 18th century Calvinistic Baptists of London. Through a biographical sketch and 35 sample selections collected from Collin's writings, Michael A.G. Haykin and Stee Weaver introduce us to the vibrant spirituality of this colossal figure.
Table of Contents:
An old gospel
Preaching from prison
The Christ-finding soul
Hold fast what thou hast
God is the gospel
The mercy of repentance
Prison comforts
Leaning on the promises
Spiritual liberty
Divine sovereignty and human responsibility
God's eternal will
A sovereign and supreme will
God – "everything personally present"
Submitting to God's will
Words of light
The sweetness of the Word in the school of affliction
The value of the ordinances in the school of affliction
Singing – "sweet incense"
"Grace sweetens the music"
Training elders within the Church
The essential necessity of the Holy Spirit
The art of preaching
The value of pastoral ministry
Some rules for interpreting Scripture
Plain preaching
Sermon preparation
Preaching "the whole counsel of God"
Some nuggets of advice about preaching
The use of notes in preaching
Calling a pastor
Praying for the outpouring of the Spirit
The laying on of hands
Peace
The believer's ultimate comfort
"For thy blest Temple's sake"  
About the Authors 
Michael A.G. Haykin is professor of Church History and Biblical Spirituality, The Southern Baptist Theological Seminary, Louisville, Kentucky, and Research Professor of Irish Baptist College, Constituent College of Queen's University Belfast, N. Ireland.
Steve Weaver is the pastor of West Broadway Baptist Church in Lenoir City, Tennessee