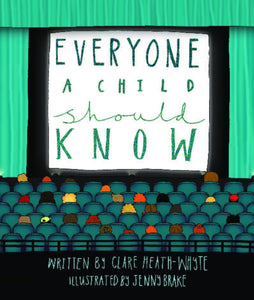 Everyone A Child Should Know
£750

£7.50

Save £2.49
Tax included.
---
---
'In 52 short and simple chapters, Everyone a Child Should Know tells how God has worked through men and women of all sorts and in every age. Try reading one per week to young children, but they'll want to read "just one more." Each turn of the page reveals another charming illustration and exciting life story—clear reminders to children that their own life is a blank page, yet to be written by the Lord.' ~ Champ Thornton, author of The Radical Book for Kids
'Ranging from the accomplished scientist and inventor George Washington Carver to the famous Bible translator John Wycliff, Everyone a Child Should Know introduces our youngest children to the men and women of history whose lives exemplified 1 Corinthians 10:31, "whatever you do, do it all for the glory of God." Clare Heath-White has done a marvelous job retelling their stories and the colorful illustrations of Jenny Brake are simply delightful.' ~ Marty Machowski Pastor and author of The Gospel Story Bible, Long Story Short and The Ology.
'Here is a great little book for introducing young children to some of the men and women in the last 2,000 years who God has changed into Gospel-people. It's delightfully illustrated, superbly written and manages to avoid the trap that many fall into when describing Jesus as a friend to children. To a child this may well mean that as their greatest friend the Lord Jesus will make their lives trouble-free. By including stories where things were very hard for some of these friends of Jesus that is skilfully avoided and therefore gives us a great discipling resource for the next generation.It's also a wonderfully adaptable book which could easily be used to read at bedtime or during family-Bible times or just to enjoy reading with your young child. A must have book for every Christian home.~ Ian Fry, associate minister for families, St Ebbe's Church, Oxford
'This is a beautifully presented book which shares what a difference being friends with Jesus makes to ordinary people, just like you and me.' ~ Lizzie Bassford, Captivated community
It's never too early to introduce the next generation to some of the heroes of faith. In this book children will meet 52 christian men and women (one for each week of the year) from all walks of life who wanted to live for their friend Jesus. There are missionaries, martyrs, writers, reformers, politicians and poets. Their stories are exciting and inspiring and will show children that any of Jesus' friends can do remarkable things for him - even them!
The book covers the following people:
Brother Andrew
Augustine
Gladys Aylward
Johann Sebastian Bach
Thomas Barnardo
Corrie ten Boom
William and Catherine Booth
Anne Bradstreet
John Bunyan
John Calvin
William Carey
Amy Carmichael
George Washington Carver
John Chrysostom
Fanny Crosby
Joni Eareckson Tada 
Edward VI
Jim and Elisabeth Elliott
Billy Graham
Argula von Grumbach
Mary Jones
Adoniram Judson
John Knox
C. S. Lewis
Eric Liddell
Katie Luther
Martin Luther
Dwight L. Moody
Hannah More
George Mueller
John Newton
Florence Nightingale
Rosa Parks
Patrick
Robert Raikes
Rembrandt
Selina, Countess of Huntingdon
Lord Shaftesbury
Mary Slessor
Charles Spurgeon
C. T. Studd
Hudson Taylor
Lilias Trotter
William Tyndale
Charles Wesley
John Wesley
Susanna Wesley
George Whitefield
William Wilberforce
Richard Wurmbrand
John Wycliffe
Katharina Zell
Author
Clare Heath-Whyte
---
We Also Recommend