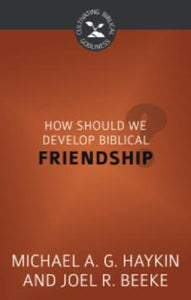 How Should We Develop Biblical Friendships?
£225

£2.25

Save £0.25
Tax included.
---
---
"Iron sharpeneth iron; so a man sharpeneth the countenance of his friend," Proverbs 27:17 tells us. God uses Christian friendships to help His children grow in grace and stay true to Christ. But our twenty-first-century Western culture values individualism, busyness, and selfishness—qualities that do not encourage deep, long-lasting, satisfying friendships.
The authors guide us through a practical survey of biblical and historical friendships, drawing principles from them that will aid us in forming our own biblical friendships that will sharpen us for our Christian journey in a world that is no friend to grace.
Contents:
Friendship in the Holy Scriptures 
            - Paul's Understanding of Friendship 
            - Paul's Friendship with Timothy 
            - Paul's Hunger for Companionship while Facing Death
Friendship in the Christian Tradition
            - John Calvin's Friendships 
            - An Eighteenth-Century Friendship
            - Two Baptist Friends 
The Art of Building Godly Friendships
Practical Steps Toward Deepening Friendship