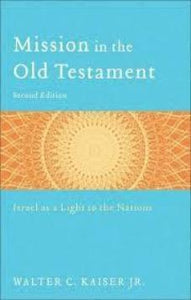 Mission in the Old Testament
£1075

£10.75

Save £1.24
Tax included.
---
---
"A wonderfully accessible introduction to and exploration of the missiological promise-plan of God, and hence would serve well as a supplemental text in classes both on missions and the Old Testament."--Journal of the Evangelical Theological Society
Walter Kaiser questions the notion that the New Testament represents a deviation from God's supposed intention to save only the Israelites. He argues that--contrary to popular opinion--the older Testament does not reinforce an exclusive redemptive plan. Instead, it emphasizes a common human condition and God's original and continuing concern for all humanity. Kaiser shows that the Israelites' mission was always to actively spread to gentiles the Good News of the promised Messiah. This new edition adds two new chapters, freshens material throughout, expands the bibliography, and includes study questions.
Contents
Introduction
1. God's Preparation for Missions in Genesis 1-11
2. God's Plan for Missions in the Patriarchal and Mosaic Eras
3. God's Promised Person for All--The Davidic King of Promise
4. God's Purpose for Missions in the Psalter of Israel
5. God's Use of Individuals to Reach Gentiles in the Old Testament
6. God's Call to Israel to Be a Light to the Nations
7. God's Persuasion of Jonah to Be His Witness with Other Prophets from Israel
8. God's Call to the Missionary Paul Based on the Old Testament
Study and Discussion Questions
Glossary
Indexes
About the Author
Walter C. Kaiser Jr. (PhD, Brandeis University) is president emeritus of Gordon-Conwell Theological Seminary in South Hamilton, Massachusetts. He previously taught at Trinity Evangelical Divinity School and at Wheaton College. Kaiser is active as a preacher, speaker, researcher, and writer and is the author of more than forty books, including Preaching and Teaching from the Old Testament and The Majesty of God in the Old Testament.