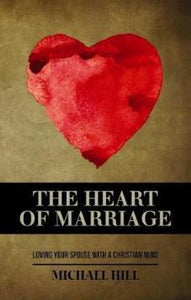 The Heart of Marriage: Loving Your Spouse with a Christian Mind
£850

£8.50

Save £1.49
Tax included.
---
---
Where does your view of marriage come from? Your parents? The media? A marriage counsellor? Or do you simply learn as you go and hope that everything will turn out OK? We all long for a deep sense of joy and intimacy. So, through the ups and downs of life, how can you sustain and promote your marriage? The deepest enrichment can only be truly found by listening to God's word.

Unlike many other books on the subject, respected Moore College theologian Michael Hill integrates the biblical material on marriage with great insight and clarity. At the heart of marriage is godly other-person-centred love and service, good leadership, faithfulness and a one-flesh view of sex that God designed to be a taste of heaven to come.

In imitating God's way of personal relationships in marriage, we honour him with our lives and give him the glory he deserves.
About the Author:
Before retiring in 2009, Michael Hill lectured in Philosophy and Ethics at Moore College, Sydney for 27 years. He has also served in parishes in both the Sydney and Armidale dioceses and is the author of "The How and Why of Love".