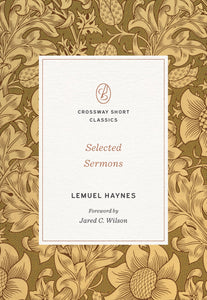 Selected Sermons - Lemuel Haynes
£650

£6.50

Save £1.49
Tax included.
---
---
The Crossway Short Classics Series Presents Rare Sermons from Black Puritan Minister Lemuel Haynes
Born in 1753, Lemuel Haynes was an indentured servant who grew to become a dynamic Reformed preacher. Nicknamed "The Black Puritan," he is credited as being the first African-American ordained for ministry in the United States. This addition to the Crossway Short Classics series presents some of Haynes's important yet little-known work.
Selected Sermons features 4 rarely published sermons, along with a biography of Haynes. In "Universal Salvation," he preaches on the reality of hell and the character of Satan. "A Sermon on John 3:3" explores Jesus's command to be born again. "The Character and Work of a Spiritual Watchman Described" details qualifications for gospel ministers, and in "Liberty Further Extended," he presents a biblical argument against slavery and oppression. This collection of Haynes's sermons offers readers robust spiritual insight and a closer look at an extraordinary figure in church history.
Collection of Rarely Published Sermons: A unique, accessible resource for pastors and scholars
Written by Black Puritan Minister Lemuel Haynes: Includes his sermons on racial justice, regeneration, biblical qualifications for ministry, and the heresy of universalism
Part of the Crossway Short Classics Series: Other titles include The Lord's Work in the Lord's Way and No Little People; The Life of God in the Soul of Man; and Fighting for Holiness 
Includes a Foreword by Jared C. Wilson
---
We Also Recommend