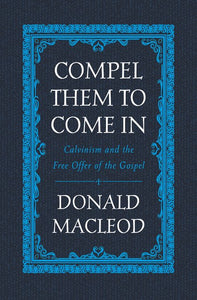 Compel Them to Come In: Calvinism and the Free Offer of the Gospel
£999

£9.99

Save £3
Tax included.
---
---
Compel Them to Come In: Calvinism and the Free Offer of the Gospel - Donald MacLeod
If we believe in God's sovereign predestination, how can we offer Christ to sinners indiscriminately? How could someone who knew that no one can come to Christ unless the Father draws them still plead with them to look to the Saviour? The Bible clearly entreats us to go after the lost, so Donald Macleod tackles the objections raised by those who argue that since there is no universal redemption there should be no universal gospel offer.
About the Author
Donald Macleod retired as the Principal of the Free Church of Scotland College, Edinburgh in 2010. Regarded as one of Britain's most prominent theologians he has written extensively on a wide range of issues.
Endorsements
This is by far the best account I have ever read on the free offer of the gospel. MacLeod demolishes all the arguments that would inhibit or restrict offering Christ freely to sinners. He sets the gospel offer in the widest context of the purpose of God and the work of Christ. Above all, he communicates this with an infectious passion for the glory of Christ and the salvation of sinners, young and old. In today's world this book is desperately needed; it could do untold good.
Robert Letham
Wales Evangelical School of Theology, Bridgend, Wales
Too frequently the free offer of the gospel is hedged about with qualifications that distort the Biblical picture of the character of God and of Jesus Christ. This wonderfully clear book by a notable Reformed teacher and preacher will thrill the soul of any reader and encourage preachers to persuade sinners of every kind as they proclaim the Gospel to them.
Rowland S. Ward
Research Lecturer, Presbyterian Theological College, Melbourne
---
We Also Recommend