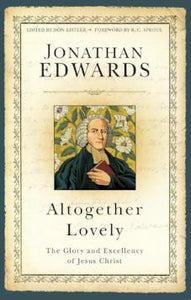 Altogether Lovely
£1125

£11.25

Save £2.25
Tax included.
---
---
Jonathan Edwards is considered by many historians to be one of the greatest intellects of his age. Even today, Edwards's sermons and writings challenge the minds and inflame the hearts of Christians everywhere. The sermons included in Altogether Lovely reveal Jonathan Edwards's deep affection for the glory and excellency of Jesus Christ.
Contents:
Foreword
God the Best Portion of the Christian

The Excellency of Christ

Christ Exalted

Safety, Fullness, and Sweet Refreshment in Christ
Author
Jonathan Edwards (1703–1758) became pastor of the church at Northampton, Massachusetts, in 1729 and remained there for twenty-three years before moving on to missionary work in Stockbridge, Massachusetts.