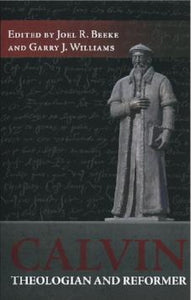 Calvin:Theologian and Reformer
£999

£9.99

Save £3.51
Tax included.
---
---
This volume grows out of a conference at The John Owen Centre for Theological Study in London to celebrate the 500th anniversary of the Reformer's birth. Topics covered include Calvin's life and reforming work, his Institutes of the Christian Religion, aspects of his theology, and his commitment to revolutionary living and powerful preaching.
The contributors are Joel Beeke, Sinclair Ferguson, Ian Hamilton, Anthony Lane, Ray Pennings, and Paul Wells.
Table of Contents:
Introduction – Gary J. Williams
PART 1—LIFE AND WORK
1. Calvin the Man: A Heart Aflame - Sinclair B. Ferguson
2. Calvin the Reformer - Ian Hamilton
3. Calvin's Way of Doing Theology: Exploring the Institutes - Anthony N. S. Lane
PART 2—DOCTRINE AND EXPERIENCE
4. Calvin and Union with Christ: The Heart of Christian Doctrine - Paul Wells
5. Calvin and Christian Experience: The Holy Spirit in the Life of the Christian - Sinclair B. Ferguson
PART 3—CHRISTIAN LIVING AND MINISTRY
6. Calvin the Revolutionary: Christian Living in a Fallen World - Joel R. Beeke and Ray Pennings
7. Calvin and Preaching: The Power of the Word - Joel R. Beeke 
Editors 
Joel R. Beeke (PhD, Westminster Seminary) is president and professor of systematic theology and homiletics at Puritan Reformed Theological Seminary; a pastor of the Heritage Reformed Congregation in Grand Rapids, Michigan; editor of Banner of Sovereign Grace Truth; editorial director of Reformation Heritage Books; and a prolific author.
Garry Williams is Director of The John Owen Centre for Theological Studies at London Theological Seminary in England and Visiting Professor of Historical Theology at Westminster Theological Seminary, Philadelphia.
---
We Also Recommend