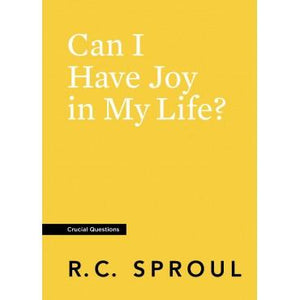 Can I Have Joy in My Life
£200

£2.00

Save £0.65
Tax included.
---
---
Joy is a popular topic in Western culture today. Books explain how to find joy in a wide variety of activities. We speak of "joyous" occasions such as weddings and births. We sing about "Joy to the World" at Christmas. "Joy" remains a popular name for girls. But given the extent to which joy seems to be on our minds, few people seem to have it or even know what it is.
In this Crucial Questions booklet, Dr. R.C. Sproul cuts through the confusion surrounding this popular but misunderstood attribute, showing the one sure path to deep, lasting joy—a relationship with God through Jesus Christ. By abiding in Christ, Dr. Sproul shows, we may experience fullness of joy—a joy that transcends unhappy circumstances and even permits us to rejoice with others because of the blessed hope Christ provides.
As a gifted communicator, R.C. Sproul has helped many believers grow in their understanding of such matters as the nature of God, the history of redemption, and the manner in which we are saved. Now Dr. Sproul's lucid teaching on these vital matters is available in a series of concise booklets that are perfect for personal learning and refreshing, as well as small-group study. For a quick introduction to matters at the very core of the Christian life, for yourself or a friend, consider the Crucial Questions booklets from Reformation Trust Publishing.