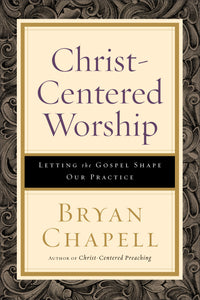 Christ-Centered Worship
£1499

£14.99

Save £5
Tax included.
---
---
The church's worship has always been shaped by its understanding of the gospel. Here the bestselling author of Christ-Centered Preaching brings biblical and historical perspective to discussions about worship, demonstrating that the gospel has shaped key worship traditions and should shape today's worship as well.
This accessible and engaging book provides the church with a Christ-centered understanding of worship to help it transcend the traditional/contemporary worship debate and unite in ministry and mission priorities. Contemporary believers will learn how to shape their worship based on Christ's ministry to and through them. The book's insights and practical resources for worship planning will be useful to pastors, worship leaders, worship planning committees, missionaries, and worship and ministry students.
Contents
Part 1: Gospel Worship 1. The Gospel of Structure 2. The Roman Story 3. Luther's Story 4. Calvin's Story 5. Westminster's Story 6. The Modern Story 7. The Gospel Story 8. Christ's Story 9. "Re-presenting" Christ's Story 10. The Mission of Our Story 11. The Aspects of Our Story 12. The Components of Our Story Part 2: Gospel Worship Resources 13. Call to Worship 14. Affirmation of Faith 15. Confession of Sin 16. Assurance of Pardon 17. Rubrics (Transitions) 18. Historic Components 19. Scripture Reading History and Practice 20. Christ-Centered Sermons 21. Benedictions and Charges 22. Worship Service Examples 23. Communion Service Thoughts 24. Music Style Thoughts 25. Worship Resources on the Internet
---
Endorsements
"Christ-Centered Worship calls people to go beyond 'contemporary worship' without being polemical in spirit. It takes historic worship traditions very seriously but uses the gospel itself as the way to critique and design orders of worship. It is full, balanced, and extremely practical. This will now be the first book I give people--or turn to myself--on the practice of understanding, planning, and leading in corporate worship."

Tim Keller, senior pastor, Redeemer Presbyterian Church; author of The Reason for God
"Christ-Centered Worship is a biblically informed, historically rooted, practical guide to the public worship of God. Bryan Chapell first builds an architecture for worship that is structured by the story of the gospel. He then provides a treasury of resources that can refresh the worship of any congregation and encourage greater unity across the evangelical church. The result is a book that seems destined to become one of the best resources available for improving the practice of Christian worship."

Philip Ryken, president, Wheaton College
"So many books about worship unfortunately assume that the structure or pattern of worship is not important, failing to realize that some pattern is inevitable and that no pattern is neutral. This book is a wonderful exception. It radiates with gratitude for the gospel of Jesus. It promotes both confessional orthodoxy and vital piety. But it also probes how well-grounded patterns and structures can become wellsprings for faithful, sustainable, and vibrant worship renewal."

John D. Witvliet, director, Calvin Institute of Christian Worship, Calvin College and Calvin Theological Seminary
"Here we have a solid, comprehensive, well-focused resource for the doxological and devotional shaping of Reformed church worship in today's North America. Thank you, Dr. Chapell."

James I. Packer, Board of Governors' Professor of Theology, Regent College
"However tempted I am to indulge in a few critical reflections, in this case it is far more important that I tell you that this is an astonishingly helpful and useful book. It is theologically rich, especially when it comes to showing, in detail, how the nature of the gospel ought to shape our public services. Yet this is far more than an essay arguing for a theological corrective. It includes many historical summaries, many lists in the needed categories (call to worship examples, responsive or antiphonal calls, musical examples, and so forth). Toward the end Chapell includes examples of entire corporate worship services. No one will agree with everything he has written here, but only the most ignorant could not profit enormously from this thoughtful and stimulating book."

D. A. Carson, research professor of New Testament, Trinity Evangelical Divinity School
---
About the Author
Bryan Chapell (PhD, Southern Illinois University) is senior pastor of Grace Presbyterian Church in Peoria, Illinois, as well as president emeritus at Covenant Theological Seminary and distinguished professor of preaching at Knox Theological Seminary. He also teaches at Covenant Theological Seminary, Reformed Theological Seminary, and Trinity Evangelical Divinity School. Chapell is a widely traveled speaker and the author of numerous books, including the bestseller Christ-Centered Preaching and Christ-Centered Worship.
Reviews
Named the "Best of the Best" for 2010 by Worship Leader magazine
"Truly exceptional. . . . Alongside his brief survey of the history of liturgy, accompanied by some magnificent charts, Chapell provides worship resources for those who want to dip Sunday services more into the liturgical practices of the Church."

Scot McKnight,

"Bryan Chapell's superb book Christ-Centered Preaching has become one of the standard texts on preaching in evangelical seminaries. Church leaders now can welcome a parallel volume in Chapell's newest contribution, Christ-Centered Worship. . . . Chapell has pressed the church to re-think its approach to worship and reminded us that worship is not about us and our preferences--it is about Christ and His glory."
Michael Duduit,
"An important book about worship that should be read by every preacher."

R. Albert Mohler,
"[This] book rich in theory and application provides a top resource for worship leaders, directors, pastors, or anyone involved in planning corporate worship. It connects us to worship history and helps us think more clearly about what exactly we communicate in the context of worship. Chapell gives us a template and vocabulary for thinking about, planning, and evaluating our worship."

Andrea Hunter,

"Among the multitude of recent evangelical works on worship, few offer a better treatment of the role and practice of Christian worship than Bryan Chapell's [Christ-Centered Worship]. . . . The work makes a strong case for an approach to congregational worship that is designed to lead a congregation through a clear understanding of orthodox Christian theology and a genuine personal experience of its implications. . . . All those interested in a helpful discussion of the role of liturgy in theological expression and experience will find [Chapell's] contribution helpful."
Timothy J. Ralston,
 

"This book is a model of grace. . . . Each chapter is short and well organized. Footnotes as opposed to endnotes make this well-edited volume a pleasure to read. The sources cited, by virtue of their sheer variety, will not only point the reader to previously unknown riches, but will also increase his or her confidence that the proposal set forth, though firmly within the Reformed tradition, is not a provincial one. Nineteen charts help us readily see the liturgical differences and the common elements. Practical wisdom abounds. . . . Given the state of worship planning and leading in many of our churches, this is just the tonic that is needed, and the dosage is about right. The medicine is a judicious mixture of biblical, historical, cultural, and contemporary ingredients making a potion of which most of us need more than a whiff to reshape our thinking. Pastors, worship leaders, lay leaders, and seminarians need to drink deeply and then, in the spirit that Dr. Chapell so effectively models, to help each other reform their practices of corporate worship."
Greg Scharf,

 
"A healthy corrective to many modern notions of worship. Biblical in focus and historical in orientation, Chapell has written a thoughtful and engaging treatment of Christian worship practice in the Reformed tradition. . . . Chapell's work supplies much useful material for working pastors responsible for organizing and leading gospel-centered worship."

James M. Garretson,
---
We Also Recommend