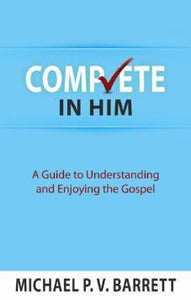 Complete in Him
£1250

£12.50

Save £4
Tax included.
---
---
Nothing is more basic to spiritual life and growth than understanding and enjoying the fundamental truths of the gospel of saving grace that center directly and uniquely in Jesus Christ. This book is a back-to-basics approach to Christian living. For Christians, everything—both their eternal destiny and their earthly journey—depends on what they think of Christ. The Bible defines from different perspectives what it means to be saved so that we can put it all together to see how great salvation we really have. Complete in Him examines essential and inseparable elements of the gospel in order to show that all of salvation relates to and flows from the Savior, Jesus Christ. Christ is everything. Salvation in Christ is complete, and we are complete in Him.
Table of Contents:
Preface
Introduction
Condemnation: The Need of the Gospel
Christ: The Essence of the Gospel
Conversion: The Response to the Gospel
Regeneration: New Life in the Gospel
Union with Christ: The Security of the Gospel
Justification: The Legality of the Gospel
Reconciliation: The Peace of the Gospel
Adoption: The Privileges in the Gospel
Sanctification: The Effect of the Gospel
Glorification: The End of the Gospel
Assurance: The Enjoyment of the Gospel
Conclusion
Author
Michael P. V. Barrett is vice president for academic affairs/academic dean and professor of Old Testament at Puritan Reformed Theological Seminary in Grand Rapids, Michigan.