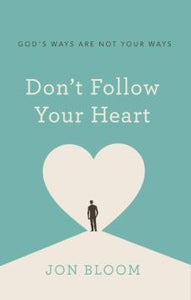 Don't Follow Your Heart
£399

£3.99

Save £4
Tax included.
---
---
"Follow your heart" is a creed embraced by billions of people. It's a statement of faith in one of the great pop-cultural myths of our day — a gospel proclaimed in many of our stories, movies, and songs. It can sound so simple, beautiful, and liberating. It's tempting to believe.
Until you consider that your heart has sociopathic tendencies. Our hearts were never designed to be followed, but to be led. Our hearts were never meant to be gods in whom we believe, but to believe in God.
This book contains 31 meditations for recalibrating your heart. It is a collection of helps for common heart problems. Because your biggest problems in life are heart problems.
Jon Bloom will help you follow Jesus by resisting your heart's errant predilections and directing it to do all God's will.
"Your heart will not save you. You need to be saved from your heart."
About the Author
Jon Bloom serves as author, board chair, and co-founder of Desiring God Ministries. He is author of three books Not By sight, Things Unseen, and Don't Follow Your Heart. He and his wife live in the Twin Cities with their five children.
---
We Also Recommend