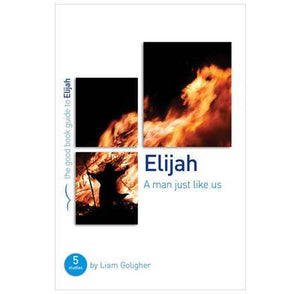 Elijah: A Man Just Like Us
£325

£3.25

Save £0.74
Tax included.
---
---
Elijah burst into Israel's history at a time of idolatry and evil. Through him it was confronted and exposed by God.
But this man, just like us, also knew weakness and failure. Not so much a mighty man, as a man serving the mighty God. In God's grace, Elijah persevered, and revealed God's mighty sovereignty, grace, power, justice, and salvation.
Christians today face the same pressures that Elijah experienced. Elijah's ups and downs speak to us too.
Contents
Introduction
1. Boot camp: 1 Kings 16 v 29 – 17 v 24
2. Standing alone: 1 Kings 18 v 1-39
3. Feeling Down: 1 Kings 19
4. Confronting injustice: 1 Kings 21
5. Going home: 2 Kings 1 v 1 – 2 v 15