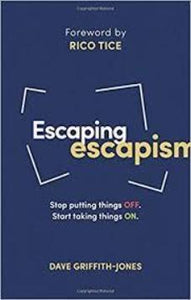 Escaping Escapism
£599

£5.99

Save £2
Tax included.
---
---
Almost anything that is worth doing is a struggle. Almost anything that benefits other people is tough to do. Almost anything that makes a difference in this world is hard to see through to the end. Which is why, we'll often do almost anything to escape doing it!
Yet we want to love people well, even when they're difficult… tackle challenges that we find difficult… and keep moving forwards through times that prove difficult. Deep down we want to get on with doing hard things, fix what needs fixing and change what needs changing.
This book shows us how a bigger, better picture of Jesus will transform us. Our panic and tendency to avoid difficult things can be replaced with joyful, get-things-done confidence and proactivity when we depend on God's power.
If you avoid difficult things but want to change, this book is for you.
Author: Dave Griffith-Jones