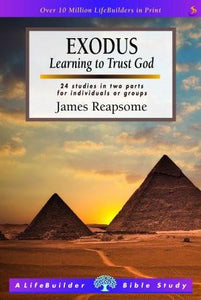 Exodus
£349

£3.49

Save £0.50
Tax included.
---
---
From abject slavery to glorious liberation, the story of Exodus tells it all. Go back 3,500 years and think about both victories and defeats among God's people. Thrill to Moses' encounters with Pharaoh, with his own rebellious people and with God at Mount Sinai.

Grasp the significance of the Ten Commandments and the worship of the true and living God. Meditate on new ideas about the meaning of worship, music and the consecration of one's possessions and talents to the glory of God.The story of Israel's exodus is not just exciting history, but also a model for every Christian's exodus from the enslaving power of sin. Jesus Christ is the Passover lamb who brings his people out of slavery to worship God.

Discover all this and more over 24 studies in the book of Exodus.