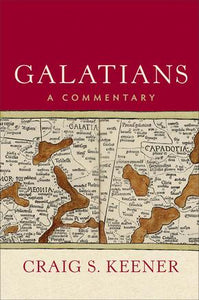 Galatians
£3050

£30.50

Save £9.49
Tax included.
---
---
Galatians
A Commentary
About
Leading New Testament scholar Craig Keener is widely respected for his thorough research, sound judgments, and knowledge of ancient sources. His four-volume magnum opus on Acts has received high praise from all quarters. This commentary on Paul's Letter to the Galatians features Keener's meticulous and comprehensive research and offers a wealth of fresh insights. It will benefit students, pastors, and church leaders alike.
Endorsements
"Craig Keener adds to his already impressive output a superb commentary on one of Paul's most contested letters. All that we have come to expect from a Keener commentary is here in full: a massive range of primary sources and secondary literature clearly known, absorbed, and evaluated; a sure and steady guide through the many complexities of the text; and a clear statement of the position adopted on the key issues with persuasive reasons at every point. This is a massive achievement from which all students of Galatians will profit for many years to come."
Christopher Tuckett, Emeritus Professor of New Testament, University of Oxford
"This extensive and sure-footed reading of Galatians excels in its capacity to place Paul's letter in its ancient cultural context. Drawing on his encyclopedic knowledge of Greek, Roman, and Jewish literature, Keener places Paul's polemics alongside ancient rhetorical practice and wisely insists that Paul's situational remarks on the law in Galatians are neither anti-Jewish nor complete. There are treasures here for readers of many different interests, including those who wonder what Galatians has to say to the church today."
John Barclay, Lightfoot Professor of Divinity, Durham University
"Craig Keener's commentary on Galatians is precisely what we would expect: it is clear, cogent, balanced, comprehensive, and insightful; it is fully engaged with other scholars, yet independent in its judgments; and it is full of illuminating references to ancient sources and cultural phenomena. No matter one's take on Paul in general, or on this letter in particular, every reader will benefit immensely from Keener's careful interpretation (and lively translation) of Paul's impassioned dispatch to the Galatians."
Michael J. Gorman, Raymond E. Brown Professor of Biblical Studies and Theology, St. Mary's Seminary and University, Baltimore
"Craig Keener's commentary on Paul's Letter to the Galatians has an erudition and thoroughness that is simply unmatched. Keener combines his encyclopedic knowledge of the ancient world with his penchant for sharp exegetical insights and sensitivity to the theological texture of Scripture. Surely a must-have resource on one of the apostle Paul's most disputed letters. Classic Keener!"
Michael F. Bird, lecturer in theology, Ridley College, Melbourne, Australia
"Craig Keener's new commentary on Galatians is a must-read for its engagement with possible interpretations, its attention to primary source data, its measured evaluations, and its interaction with the secondary literature. The commentary is meticulous and thorough, Dr. Keener's hallmarks."
A. Andrew Das, Elmhurst College; author of Galatians in the Concordia Commentary series
"Craig Keener has put us in his debt again with his commentary on Galatians. He interacts regularly with primary sources in the Greco-Roman world and Second Temple Judaism, is deeply conversant with contemporary scholarship, and provides his own lucid commentary on one of Paul's most significant letters."
Thomas R. Schreiner, James Buchanan Harrison Professor of New Testament Interpretation and associate dean, Southern Baptist Theological Seminary
The Author 
Craig S. Keener
Craig S. Keener (Ph.D., Duke University) is F. M. and Ada Thompson Professor of Biblical Studies at Asbury Theological Seminary. He is author of 25 books, 5 of which have won awards in Christianity Today.