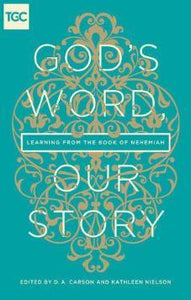 God's Word Our Story
£899

£8.99

Save £3
Tax included.
---
---
"You have kept your promise, for you are righteous." —Nehemiah 9:8
The book of Nehemiah powerfully illustrates God's faithfulness as it chronicles Israel's return from exile. In this collection of biblical expositions, nine prominent Bible teachers lead readers on a gospel-centered survey of this Old Testament book, connecting the story of Nehemiah to God's overarching story of redemption. Chapters include:
Taking Action in Light of God's Word (Nehemiah 1–2)
Kathy Keller
Laboring for a God Who Fights for Us (Nehemiah 3–4)
Tim Keller
Fearing God in a Fallen World (Nehemiah 5–6)
Paige Brown
Coming Together around God's Word (Nehemiah 7–8)
Nancy Guthrie
Responding to God according to His Word (Nehemiah 9–10)
John Piper
Celebrating! A Moment of Joy in Jerusalem (Nehemiah 11–12)
Carrie Sandom, Jenny Salt, & Kathleen Nielson
Leaning Forward in the Dark: A Failed Reformation (Nehemiah 13)
D. A. Carson
Part of The Gospel Coalition series. 
---
We Also Recommend