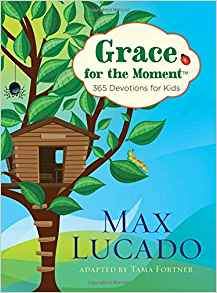 Grace for the Moment
Grace is: God's best idea . . . More than we deserve … And greater than we imagine.  But how can you plant this important message of grace into the heart of your child? 
Adapted from the bestselling devotional for adults (with more than 3 million copies sold), Grace for the Moment: 365 Devotions for Kids presents the message of God's grace in a way that children can understand. It's perfect for families to read together or for older readers to enjoy alone. Each day offers a devotion and scripture to encourage regular time with God. And because giving grace is just as important as receiving it, a "Growing in Grace" opportunity accompanies each devotion, offering practical and easy-to-do activities to help kids apply God's grace―every day and every moment.
Meets national education standards
---
We Also Recommend