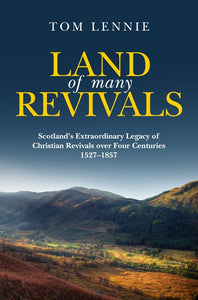 Land of many Revivals
£999

£9.99

Save £10
Tax included.
---
---
**MEGA BARGAIN PRICE - WHILST STOCK LASTS**

Scotland has arguably the most varied, colourful and longstanding history of evangelical revivals in the world. Focusing on the period between 1527-1857 Tom Lennie provides an illuminating account of many an exciting time. Scotland's true revival legacy is wide and varied and Lennie draws on a variety of sources to bring together this comprehensive resource. Land of Many Revivals examines how revival happened in different ways across Scotland and looks at the legacy left in these communities.
A native of Orkney, Tom Lennie has long held a passion for spiritual revivals worldwide, and owns one of the largest private libraries of revival literature in the UK. He currently resides in Edinburgh, where he is working on the next volume of his trilogy on Scottish revival movements.
---
We Also Recommend