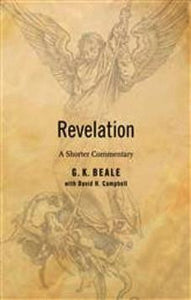 Revelation A Shorter Commentary
£2599

£25.99

Save £4
Tax included.
---
---
G. K. Beale's monumental New International Greek Testament Commentary volume on Revelation has been highly praised since its publication in 1999. This shorter commentary distills the superb grammatical analysis and exegesis from that tome (over 1,300 pages) into a book more accessible and pertinent to preachers, students, and general Christian readers.

As in the original commentary, Beale views Revelation as an integrated whole, as a conscious continuation of the Old Testament prophetic books, and shows that recognizing Revelation's nearly constant use of Old Testament allusions is key to unlocking its meaning. Interspersed throughout the volume are more than sixty sets of "Suggestions for Reflection" to help readers better grasp the relevance of Revelation to their lives and our world today.
G. K. Beale is J. Gresham Machen Chair of New Testament and professor of New Testament and biblical theology at Westminster Theological Seminary.