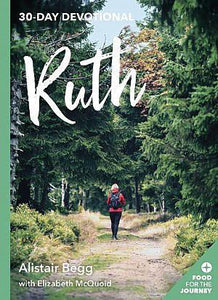 Ruth - 30 Day Devotional
£499

£4.99

Save £1
Tax included.
---
---
Ruth: Food for the Journey, 30 Day Devotional by Alistair Begg and published by IVP Books.
In the midst of bad news, can there be any hope? The story of Ruth takes place when the Israelites are living in the Promised Land. But instead of obeying God, they are rebelling against his rule. When they cry for deliverance, God sends them a judge. The judge dies, and the people become even more corrupt than their ancestors. Brutality and immorality abound. We focus on an ordinary woman called Naomi and her family. We witness her joys and her sorrows, but more importantly, God's amazing providence in her situation.
The book of Ruth is written into a whirl of social, religious, and moral chaos. It is a reminder that there is hope, that a remnant of true faith remains and the God continues to work in the lives of ordinary people. The book points forward to King David who would lead the people wisely. But ultimately it points to Jesus, the great Son of David - the hope of the nations, the light of the world and the prince of peace.
---
We Also Recommend