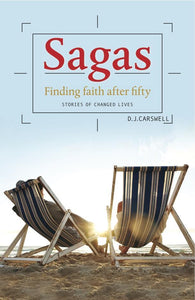 Sagas: Finding Faith After 50
£499

£4.99

Save £1
Tax included.
---
---
To realise that I was born in the last century makes me feel positively ancient.
My grandmother never visited London. My father never flew in an aeroplane. Middle age for him was his thirties as he died before he could enjoy retirement years having suffered most of his life from chronic lung disease. My generation, however, has seen some of the most amazing advances in science, technology and social development. It is no longer unusual for people to live until they are a hundred years old, often enjoying fairly good health until their nineties. It is no longer expected that a person dresses or behaves as previous generations did on reaching retirement years. Indeed, the newspapers regularly record achievements and, often outrageous behaviour, or life style of the 'third generation' or even the 'fourth generation'.
And we 'over 50's' are positively swarming all over the place. But ski lift or stair lift, being over fifty can be scary.
Sagas is a collection of short real life stories of mature people who have experienced something that has changed their outlook on life and death. Their honest, yet differing, accounts offer very personal insights into finding faith after fifty.
Everyone who has managed to clock up half a century, naturally will have formed opinions on most things, including faith and God. Of course we are always right…aren't we? And yet…? What do we believe? Does it matter?
Fingers crossed…I wish I had your faith…I'll think about God later…It's too late now… 
This book could answer some of your questions, doubts or even help you to re–affirm your faith. Each chapter stands alone so you can start at the beginning or pick random chapters.
So let me introduce you to a few people whose lives have been challenged or changed in later years…