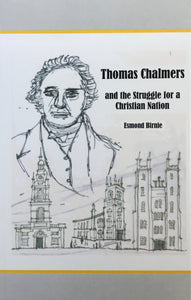 Thomas Chalmers and the Struggle for a Christian Nation
£750

£7.50

Save £2.49
Tax included.
---
---
Thomas Chalmers (1780-1847) was a colossal figure in the Scottish Church. He was a leader in the Church of Scotland and, following The Disruption, the Free Church of Scotland, a lecturer in mathematics, a moral philosopher, an economist, a minster, and a theologian. It should come as no surprise that Donald McKim has called him "Scotland's greatest nineteenth-century churchman".
In this book Esmond Birnie takes the reader through the life of Chalmers, showing his role in key aspects of Scottish church history while exploring his views on a range of subjects. The result is a delightful book which will enlighten and stimulate the reader and cause us to think on these issues afresh.Chalmers is not so well known today and Esmond Birnie has done a great service to the Church in writing this volume and introducing Chalmers to a new generation of readers who should recognise the contemporary relevance of many of the subjects raised by Chalmers in the 19th century.
"Less than two months before he died, Chalmers was asked for his view on a particular question about how schools should be funded and organised. Chalmers replied that he was at that time reluctant to give such a judgment: 'I wait for more data than we are yet in possession of.' One of the things I most admire Chalmers for is his painstaking commitment to collecting the facts and evidence. Far from this being in conflict with faith, this was his God-given duty, I hope and pray that I have carefully and fairly collected some of the evidence about Chalmers and in that spirit I present the evidence to you, the reader." - Esmond Birnie.
Commendations
"Esmond Birnie's new book is a welcome reminder of Chalmers' remarkable life and an occasion to ponder the responsibilities of Christians in the public square." - Darryl G. Hart
About the Author
Esmond Birnie is a senior economist at Ulster University. He and his wife, Roselle, are members of Stranmillis Evangelical Presbyterian Church, Belfast. They have three children.
---
We Also Recommend