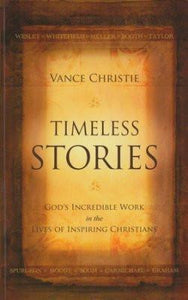 Timeless Stories
£499

£4.99

Save £5
Tax included.
---
---
They were, much like us, ordinary citizens of their time. Yet their extraordinary lives resound through the generations for the glory of God, pointing us to a higher way of life today. Timeless Stories is an exceptional collection of narratives from the daily lives of Christian heroes like George Muller, Charles Spurgeon, Dwight Moody, Corrie ten Boom, Billy Graham and others.
Timeless Stories is a treasure trove of illustrations that will capture the hearts of children and adults alike. The powerful words of testimony and transformative ideals portrayed in this collection continue to instruct believers across the globe and through the ages. These stories of day-to-day living reveal human frailty, emotion and struggles common to man-all undergirded by an unshakable faith that fueled great passions. There are tales of love, family, broken hearts, regrets and survival. Lessons of forgiveness, adversity, stewardship, prayer and service light the way for followers through the ages.
The same Lord who equipped, empowered and gave great success to those who went before us-despite their faults and inadequacies-will so work in the lives of Christians today and until the end of time.
About Vance Christie
Vance Christie is a pastor and author best known for vivid retelling of missionary stories. He lives in Aurora, Nebraska and has previously written for the 'Heroes of the Faith' series.
---
We Also Recommend