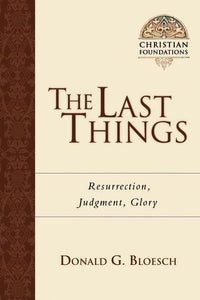 The Last Things
£1950

£19.50

Save £6.49
Tax included.
---
---
In The Last Things Donald G. Bloesch takes up difficult and sometimes controversial themes such as the coming of the kingdom of God, the return of Jesus Christ, the life hereafter, the millennial hope, the final judgment, hell, heaven, purgatory and paradise.
Wrestling with biblical texts that often take metaphorical form, Bloesch avoids rationalistic reductionism as well as timid agnosticism. While he acknowledges mystery and even paradox, Bloesch finds biblical revelation much more than sufficient to illuminate the central truths of a Christian hope articulated throughout the history of the church.
The Last Things is not just a review of past Christian eschatology but a fresh articulation of the grace and glory of God yet to be consummated. The triumph of the grace of Jesus Christ and the dawning of hope beckon us to reach out in the power of the Spirit to receive that blessed future and the promise to renew the life of the church universal today.
---
We Also Recommend